Dental Implants
Get the

BEST Deal

on

Dental Implants
AS LOW AS $3995*
Free Consultation
*See pricing for details. Cannot to be combined with other offers or dental insurance.
Don't ignore missing teeth
The benefits of replacing missing teeth go so far beyond cosmetics. When teeth are allowed to remain missing, not only do your smile and confidence suffer, but your oral health and bone structure will be in danger as well.
When you have a gap in your smile, the surrounding teeth will begin to shift and rotate, which can cause problems for your oral hygiene, and your bite which can lead to jaw joint or TMJ problems. Without the supporting tooth root, the jawbone actually begins to deteriorate, or atrophy, which is what causes the "sunken face" appearance you may have noticed in some patients who are missing teeth. Dental implants help maintain your oral health and facial structure.
What are dental implants?
Dental implants are small titanium posts that are surgically inserted into the gums and allowed to fuse with the jawbone. Implants are tooth root replacements that preserve your oral health, and serve as anchors for restorations like crowns and dentures. Benefits of dental implants include:
Preserve integrity of surrounding teeth
Prevent jawbone atrophy or "sunken face"
Secure restorations like crowns & dentures
Enjoy your favorite foods
Speak, laugh, & smile with confidence
If you're ready to back control of your smile, your health, and your life, our Spring, TX dental team would love to speak with you about the most advanced tooth replacement solution with dental implants.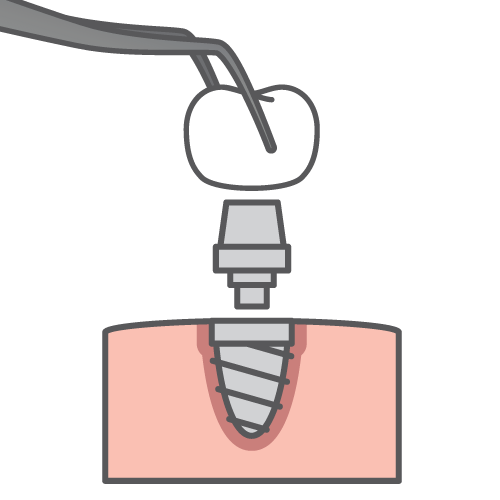 Take control of your oral health & call to schedule your free consultation today!
At Spring Creek Dentistry, we are proud to offer a comprehensive mix of services to provide all of your family's dental needs under one roof. We have four amazing doctors and an outstanding team who can't wait to meet you.
OVER 1,200 5-STAR
GOOGLE REVIEWS!
Spring Creek Dentistry staff always friendly and professional. I appreciate that I am able to come in on short notice if a problem occurs. Dr. Miller great listener and explains all options available so that I can choose most affordable for my budget. I have been "blessed" with major dental issues and in the past have visited many dentists. I have found this group to offer excellent care and honest solutions for me.
We're new to the area. I had an Emergency Extraction, they made it so PAINLESS! This was an Exceptional Experience for me, especially being that I was always afraid of dentist growing up. Dr. Oakley & his staff are very nice, efficient & professional! I love this dental office. They even call to check on your recovery afterwards!
From checking to check out, the staff was PHENOMENAL!!! I voiced my concerns as to why I hadn't been to a dentist in 15+ yrs and they listened and made me feel at ease. I will definitely be keeping my next appointments and will definitely tell friends about you!! Thank you again!!!
Awesome is the only way I know to describe the people here. I have always been afraid to go to the dentist but my experience at Spring Creek Dentistry put my fears to rest. Everyone is very compassionate and helpful and most important of all, very gentle!
I have been a patient here for over 5 years and I always have a great experience. All of the staff are professional and welcoming. The dental hygienists work hard. Dentists sometimes get a bad reputation but Dr Oakley makes you feel comfortable, explains thoroughly and his charisma is unmatched! Would highly recommend!
Ronald E. Miller Jr.
DDS, FICOI
Dr. Ronald Miller joined Spring Creek Dentistry in 2009. Dr. Miller earned his Bachelor of Science degree in Biology from Texas A&M University, and his Doctorate in Dental Science at the University of Texas Dental Branch at Houston. Dr. Miller has extensive training and certifications in surgical precision implant placement and restoration, and has helped many patients regain their smile and quality of life with dental implants! Dr. Miller loves getting to know his patients, and helping them achieve beautiful smiles! He's a meticulous professional who provides high quality, individualized care. Dr. Miller is married with three children: Ava, Reagan, and Ronnie. He enjoys building furniture and cabinet-making, as well as spending time with his family.