Dental Implants
#1 tooth replacement solution
If you suffer from missing teeth and are ready for the most advanced solution to restore your smile in form and function, we would love to speak with you about dental implants. Dental implants are the most recommended tooth replacement solution – by doctors and patients alike.
Don't ignore missing teeth
The benefits of replacing missing teeth go so far beyond cosmetics. When teeth are allowed to remain missing, not only do your smile and confidence suffer, but your oral health and bone structure will be in danger as well.
When you have a gap in your smile, the surrounding teeth will begin to shift and rotate, which can cause problems for your oral hygiene, and your bite which can lead to jaw joint or TMJ problems. Without the supporting tooth root, the jawbone actually begins to deteriorate, or atrophy, which is what causes the "sunken face" appearance you may have noticed in some patients who are missing teeth. Dental implants help maintain your oral health and facial structure.
What are dental implants?
Dental implants are small titanium posts that are surgically inserted into the gums and allowed to fuse with the jawbone. Implants are tooth root replacements that preserve your oral health, and serve as anchors for restorations like crowns and dentures. Benefits of dental implants include:
Preserve integrity of surrounding teeth
Prevent jawbone atrophy or "sunken face"
Secure restorations like crowns & dentures
Enjoy your favorite foods
Speak, laugh, & smile with confidence
If you're ready to back control of your smile, your health, and your life, we would love to speak with you about the most advanced tooth replacement solution with dental implants.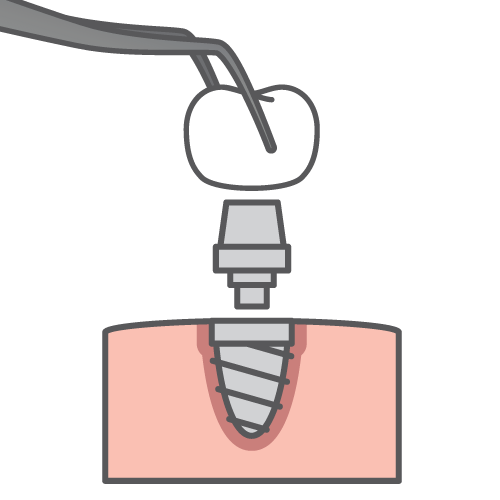 Take control of your oral health & call today to schedule!
At Spring Creek Dentistry, we are proud to offer a comprehensive mix of services to provide all of your family's dental needs under one roof. We have four amazing doctors and an outstanding team who can't wait to meet you.